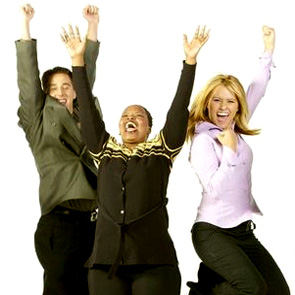 As a marketing professional offline for many years I know that networking is an essential part of strengthening a business. However, due to 'circumstances beyond my control' my offline networking these past few years has been rare. Well let's call a hermit a hermit – because offline I became one. Online … why I was a social butterfly! In 2010 I dove into the online network-marketing world. Hiding in front of my computer, I've built a business, worked with teams, made amazing friendships and soaked up knowledge from around the globe … all in my safe office at home.
It has been fascinating, interesting, exhausting, disappointing, rewarding and exhilaratingWhile the online angel on my right shoulder was doing the happy dance, that little offline wallflower on my left shoulder had a permanent scowl of disapproval. 
I knew I had to bring back some balance, get out of my yoga pants and into the real world.
But so much had changed. I was damaged from a tragic event a few years back – the 'circumstances beyond my control' I mentioned above. Although clearly not my fault, I had suffered and try as I might … it showed. On top of that I was OLDER now. I had every excuse in the book…
Could I really do it all again? Would the real world accept me? Offline angel finally did the STOMP and took control. She and Jim Rohn's "How To Live An Exceptional Life" CD series told me YES!
YES, I was that successful businesswoman that had built a large, award winning communication design firm from the ground up so many years ago. YES, I was the same person that took another struggling business – tripled the revenues and real estate value and built a team that took it to a thriving and profitable business. Just because the tragic events destroyed most of that, at my core I still had the same passion and drive. I had never really given up. I still had potential.
Recently I started my journey by joining some business networking clubs. I had a wonderful time and saw old friends at the Abbotsford Business & Professional Women's Club monthly luncheon. This month, in honour of International Women's Day they celebrated the achievements of community women from around the world, featuring professional women new to Canada.
Suddenly my problems were puny. I heard stories from women who had much bigger obstacles than I. They had to do far more than just venture from the comforts of home. They had to move across the continent, across the ocean! I heard from…
Olena Zagoskina (from the Ukraine), Masters of Science, Mechanical Engineer; Poonam Singh (from Nepal), Doctor of Philosophy (Horticulture); and Gail Gromaski (from the U.S.) Marketing and Communications Specialist. These women told their spellbinding stories of adapting to Canada. In spite of coming here with impressive degrees, they had a difficult time finding work in their fields. They were inspiring women. They kept on trying. They never gave up and while they credited the Employment Mentors' Program (Abbotsford Community Services) and the Abbotsford BPW Club as integral keys to their success, as someone said, I am sure they would have made it one way or another. Someone at the next table said out loud to them "The world is your oyster" and it truly is. 
In the 80′s, my mother had dragged me along to help her start the Abbotsford Business & Professional Women's Club. She had started the Surrey chapter year's before and when we moved to Abbotsford to build a family business, it was just matter of course for her to start a club there. I was involved for many years and I met many remarkable women. Together we helped others find success in all areas of life and in doing so found success ourselves. It was a great feeling to come home there … to be surrounded once again by such a nurturing group. I felt blessed to have had such a wonderful mother and honoured to be given this gift once again for the taking … to just pick up where I left off and made to feel welcome was very uplifting.
It's great to have contacts online, but don't substitute real life networking with digital. Go to events, meet with people and show them you're a real person and not just an online profile. Live business networking groups are invaluable … something that cannot be found online. There is nothing like a real handshake and real hugs. Make sure you get the best of both worlds.
… and after this offline networking I am back online with both my angels doing the 'happy dance'… 
Whoa-oa-oa! I feel good, I knew that I would, now
I feel good, I knew that I would, now
So good, so good, I got you
Whoa! I feel nice, like sugar and spice
I feel nice, like sugar and spice
So nice, so nice, I got you…
See those angels dancin'?
"Hey, is that you on the left, Mom?…uh, yeah, I promise you'll never be a wallfower again…"
PS The Business & Professional Women's Club is an international organization. It is a non-sectarian, non-profit, non-partisan organization that works to improve economic, political, social and employment conditions for women. Look for a club in your part of the world where you can build networks and lasting friendships. And if you live in Langley, BC watch for one starting there very soon.