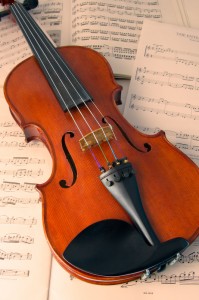 "Music is so naturally
united with us that we
cannot be free from it
even if we so desired"
BOETHIUS CITED BY STORR. 

Here is some of my favorite music when
I am in a learning or creative phase
(As a matter of fact the tunes are playing as I write this)

Just download from iTunes as I did or wherever
you like. Play these softly as background music
as you are studying, working, creating or just
meditating. Or play loudly, with gusto and dance!
You will be amazed at how you will respond.
Mozart's Sonata for Two Piano's in D Major
Air on a G String: Bach's Suite No. 3
Strauss's The Blue Danube
Mozart Sonata No.16 C major
Beethoven Ode to Joy
Piano Concerto No. 21 "Elvira Madigan" – Andante
Brandenberg Con No. 3 in G
Elgar: Cello Concerto in E Minor
La Folia in Baroque Violin Favorites by Hyun-sun Kim
Water Music, Suite No. 2 in D Major
Concerto No. 2 in E Major for Violin and Strings
Piano Concerto No.14 in E-Flat
Sinfonia Terzo Tuono
Concerto for Flute and Harp – Andantino


Vivaldi's Four Seasons Spring

Vivaldi's Four Seasons Summer
And from artist, Meditation Masters:
Positive Thinking Instrumental
Concentration Meditation
Personal development is not new, of course. However, for me the direction has constantly been changing. For a couple of decades, I had a bricks and mortar business and I went big time into absorbing whatever was out there to help me learn skills to help my business  and my personal life. I learned that if I wanted to be a true entrepreneur my journey was to be one of personal development. I enrolled in several classroom style business development courses that included training with Anthony Robbins audios, the One Minute Manager audio, The E-myth Management online and more. These were truly valuable for me.
Most recently I have embarked on another serious learning curve. This time I started with personal development and the creation of a successful business has followed almost simultaneously. A while ago I completed a mind expanding audio series titled "Your Wish Is Your Command".  This teaching series takes a completely different approach to what I have been used to. I am now learning to focus on finding and developing my inner passions, my core inner strength and developing my life and work around that. It has completely blown me away at how well the techniques work.
An interesting part of the series was how music affects our brainwaves and our ability to learn. Did you know that music helped Thomas Jefferson write the Declaration of Independence? When he could not figure out the right wording for a certain part, he would play his violin to help him. The music helped him get the words from his brain onto the paper.
Music was the key that helped Albert Einstein become one of the smartest men who has ever lived. We recognize Einstein as a great genius. A little known fact about him is that he did very poorly in school and his teacher's told his parents that it was a waste of the school's resources to invest time and energy in their son's education and even suggested that they get Albert an easy, manual labor job. Albert's mother however, knowing that her son was not "stupid" did not follow the school's advice. Instead his parents bought him a violin and Albert became very good with the instrument. Einstein is known to figure out his problems and equations by improvising on the violin.
Classical music from the baroque period causes the heart beat and pulse rate to relax to the beat of the music. As the body becomes relaxed and alert, the mind is able to concentrate more easily. Furthermore, baroque music decreases blood pressure and enhances the ability to learn.
Music can also affect your memory and this is very intriguing. Mozart's music and baroque music, with a 60 beats per minute beat pattern, activate the left and right brain. The simultaneous left and right brain action maximizes learning and retention of learning. The information being studied activates the left brain, while the music activates the right brain. Also, activities which engage both sides of the brain at the same time, such as playing an instrument or singing, causes the brain to be more capable of processing information. According to The Center for New Discoveries in Learning, learning potential can be increased a minimum of five times by using this 60 beats per minute music.

One cannot deny the power of music. High school students who study music have a higher grade point averages than those who don't. The top engineers from Silicon Valley are all musicians, and many of our great scientists and leaders throughout history and today.
I hope you enjoyed this post and if there are there certain songs or types of music you like to play while you are working, please feel free to add in to the comments below…